---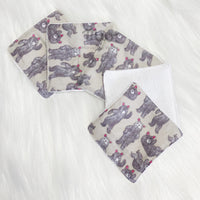 Our reusable cotton pads are a great, eco-friendly alternative to single-use cotton rounds. They are perfect for: applying toner, removing makeup, or for use with your favourite cleanser.
Each pad measures 7 x 7cm
5 reusable cotton pads in each set
Made of 100% Cotton
How to wash:
Place your pads in a mesh laundry bag and wash them in the washing machine with your light coloured clothes on a warm wash (up to 40°C, 104°F) with a gentle detergent and leave the pads to dry naturally. Do not use fabric softener or bleach when washing your pads.