---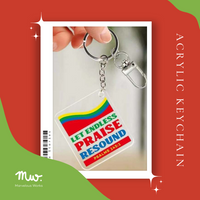 Psalm 145:1 NIV
"I will exalt you, my God the King; I will praise your name for ever and ever." 
Our Bible verse design offers a stylish and practical way to carry your keys while providing a source of inspiration and encouragement. It can also serve as a thoughtful gift for friends, family, or fellow believers who appreciate the beauty of scripture and enjoy having a spiritual reminder close at hand.
The hook attached to the keychain allows for easy attachment to bags, belts, or key rings, ensuring that your keys or other items are securely fastened. 
Measurements:
45cm x 45cm
Thickness 2mm